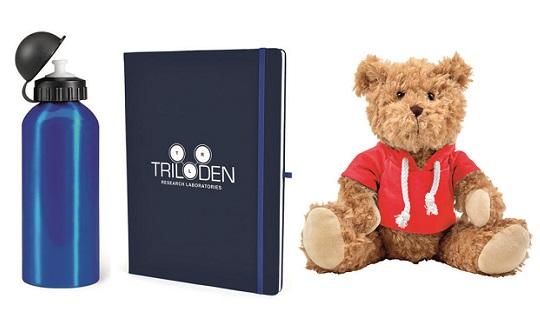 Many promotional products are used on a daily basis including mugs, pens, umbrellas, post-it pads and branded work-wear. If you are planning a promotional campaign to include promotional items consider carefully what products will be the most effective to help you get your message across?
To help work out the most appropriate products, consider the following:
1) Target Audience
Are you aiming at children, youths, adults or any specific age groups
What are the common factors or interests for your target group
Are you targeting males , females or mixed groups
It is important you have a have a clear target audience to help identify appropriate merchandise for an effective campaign.
2) Purpose of campaign
Are you going to an event or an exhibition, or organising a conference?
Are you releasing new information like new contact details, new website or other important announcements?
Are you having a large gathering like an open day, gala day or corporate event?
Is the merchandise general promotional material for existing clients and potential new contacts?
Once it is clear what the reason is for the campaign, relevant products with suitable branding areas can be identified. Careful consideration must be made to identify appropriate products for your requirements e.g branded chocolate is not a good idea for a gala day on a hot summer's day.
3) Type of gift
Where do you want the gift to stay – at home, in the office, in the car, on the desk etc?
Has it to be a personal item?
Do you want the item to be in public view?
4) Distribution
How are you going to distribute the gifts? If you are handing them out personally then there are fewer restrictions but if you are at an event visitors may not want to carry heavy or bulky gifts.
If you are planning a postal campaign remember to consider the cost of postage. Flatter and lighter items tend to be more economical.
5) Budget
Have a clear idea what the ideal budget is per item and what quantity you are considering. Larger quantities tend to have better price breaks but knowing this information from the start makes it easier to quickly identify the most appropriate items for a campaign.
6) Branding Requirements
What are your branding requirements. If the products have to be printed, how many colours are in your logo. Bear in mind that additional colours cost more money in screen printed jobs.
On budget merchandise or smaller quantities, consider whether a single colour logo will effectively get your message across, as it is often considerably cheaper than multi-colour printing.
If your logo is multi-colour, it may be worth considering products that can be digitally printed to keep your costs down.
7) Delivery Date
When planning a campaign think carefully when you need the merchandise. Stock UK products have standard lead times usually around 2 weeks from artwork approval but this varies depending on the product and source.
Fast track items can be delivered on a faster service – as quickly as 24 hours for some pens! There is often a higher price to pay and the range of available items on this fast track service is restricted.
Plan your campaign and order your merchandise as early as possible so you can benefit from the best available prices and you can select the most appropriate products to help your campaign work effectively.
8) Ask for help
We have years of experience advising clients of the most appropriate merchandise for different purposes. We know of products that are available that you may not even have thought about and we can find products that will surprise you. We can help you find promotional merchandise that fits within your budget to optimise the effectiveness of your promotional campaigns, and we love a challenge!
Remember the most effective promotional items are functional and gimmicky products.