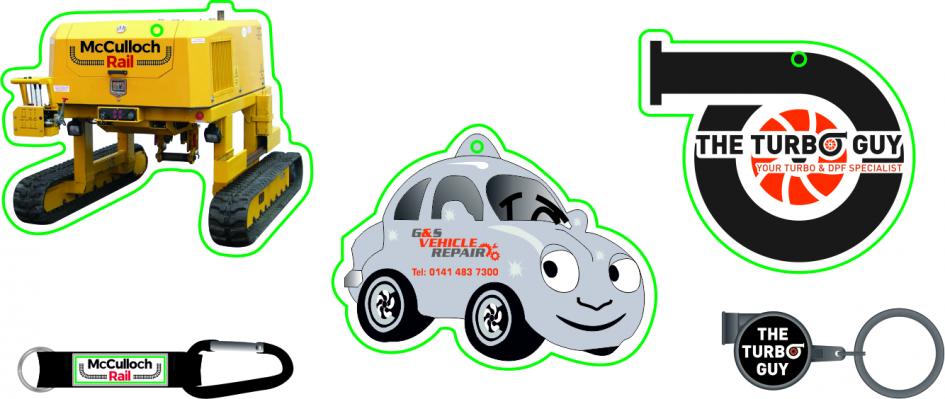 With new car sales rising, and the second-hand car market also very buoyant – there is a great marketing opportunity available!
The range of items and possibilities are plentiful. An obvious choice for a low-cost promotional product is an air freshener. When hung in the car, your branding will be seen daily, and the scent will be a great reminder of your gift. Air fresheners can also be made to any shape and with any design to make your brand really stand out and be memorable.
Another functional option is an ice scraper. It is a seasonal product and will likely be in regular view and very handy throughout the winter. Despite being a seasonal product, Ice scrapers tend to be kept for several years ensuring your brand reappears when the next winter arrives. Ice scrapers vary from small plastic economy models to the latest safety ice scrapers with LED torch and safety belt cutter integrated into the handle. There is an option to suit all budgets!
If you are looking for a product that will be visible year-round, some type of keyring is a good option. From a basic loop keyring making is easy to hang your keys, to a tyre tread gauge keyring to keep on top of wear and tear on you tyres, or even a car key pouch with anti-theft RFID blockers. There are all sorts of keyring options that are worth exploring to suit your target audience.
If you are looking for something a bit different - Items as unique as small bags for locking wheel nuts are a great idea. They will not be in full view daily but when the need arises and the wheel needs removing – the branding on the bag will be fully visible at the time of need – this is a great opportunity for certain businesses like rescue services, tyre sellers or general garages. Get your logo visible at the relevant time to increase the likelihood of gaining the work!
Remember, any time you are considering using promotional products to enhance your brand and increase your visibility, consider products that are functional and will be around for a while to ensure maximum brand exposure.
Contact us - We are always happy to discuss options and suggest ideas to help you maximise the effectiveness of your promotional campaign.
Call 0141 639 4210 or email: [email protected]