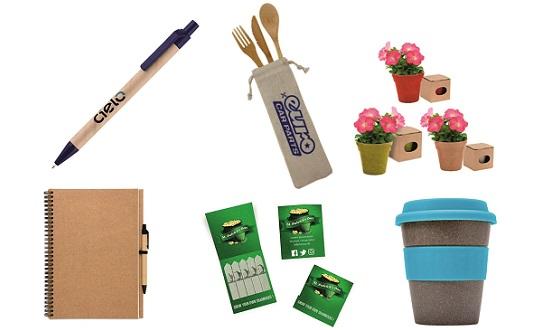 Thinking environmentally?
When selecting promotional merchandise why not consider Eco friendly products. The benefits can be great:
Help reduce the consumption of limited resources.
Lessen the impact of production on the environment with our wide variety of environmentally aware products.
Minimise fuel pollution be selecting products manufactured within the UK

Eco-friendly products include:
Recycled promotional products manufactured from: car tyres, plastics, cartons, vending cups, newspapers, leather, glass etc.
Environmentally friendly products from cotton, sustainable wood etc
Eco friendly products using solar power, wind-up mechanisms or water power.
A good range of products manufactured in UK including mouse mats, coasters, rulers, badges., bookmarks, folders & keyrings.
Product definitions – Make an informed decision when selecting you eco friendly promotional items. What do the titles mean?
Recycled – Made from previously used & processed materials including glass, paper, metal, plastic, textiles and electronics.
Recyclable – Can be processed at the end of it's practical life to be used again for the same or different purpose.
Biodegradable – Decays naturally & harmlessly, helping to limit the amount of harmful chemicals released into the atmosphere.
Organic – Made from materials produced without the use of artificial chemicals.
Sustainable – Made from long term self sustainable materials farmed and sourced with little or no damage to the environment.
Solar Powered – Powered by electricity generated from the natural energy contained within the suns rays.
Water Powered – Powered, driven or propelled by water.
Energy Saving – Minimises the use of relevant power source whilst item is both in use and on standby.
Dynamo Powered – Power generated by mechanical movement, such as wind up mechanism.
The range is vast and rapidly growing, if you need any help – contact us to discuss.
Go Green … Show your customers you care!